Manish Kashinath Potdar, at a young age of 39,is a well known personality, not only in his hometown Pune, but also in many parts of India . He has to his credit , clients from various parts of the world, like the United States , Australia , United Kingdom , South Africa ,Canada, West germany, Singapore ,Thailand & Spain.
He is an avid reader of the ancient Indian writings on the effects of mantras, use of precious & semiprecious gemstones, Vaidic astrology, & palmistry.
He specializes in astrology, & gemmology, these being his childhood interests. He is an expert in Indian 'Vastushastra' and the Chinese 'Feng shui', the art & science of chanellising the flow of energy through a "vastu" or place of work, or dwelling.

He has a large clientele, who testify to the miraculous changes that have occurred after following these guidelines.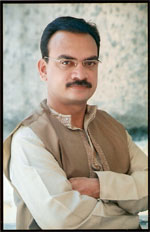 His deep interest in the occult sciences, dates back to his childhood days, about 25years back. Born and brought up in a family with a spiritual inclination, he had an access to valuable books by ancient masters, the 'nathapanthiyas', and had a fruitful interaction with learned persons in the field, and yogis like Shri A.L. Bhagwat.

Mr. Manish Potdar has attuned to 'Reiki', and 'Mahikari', the methods of chanellising cosmic energy through your body for greater physical, mental, and spiritual wellbeing.. He has learnt the 'Kriya Yog', a method for spiritual development. This has energized his efforts in his field.

He has united the knowledge of use of crystals in ancient India, for enhancing the aura,with the help of 'Crystal Healing',and brought immense benefit to a large number of his clientele.

His profession being a rather unusual one, he decided to complete his mechanical engineering , Diploma in business & Industrial management. He was however always interested in astrology, & gemmology, which did not let him be at ease.It was then that he met 2 great gurus in astrology, Shri V. D. Bhat & Shri M.D. Bhat, who guided him to the completion of the advanced learning in astrology ,from the 'Maharashtra Jyotish Parishad, Pune'.His training in Gemmology was completed under the able guidance of Shri K.V.Peshwa from the JRVGTI, located in the Fergusson college campus Pune.His training in palmistry, was fruitful under guidance of Shri B.B. Shastri,the famous palmist from North India.

People lined up at his residence to seek the advice of Shri Manish Potdar , even before he decided to formally start his practice.On the friendly persual of many such people, who derived immense benefit from his knowledge, & expertise, he decided to start his office as a cosulting room in Ashok Nagar , Pune, near E Square, and to launch two websites,
www.astrosai.net and www.astrosai.in to reach out to the global community at large.